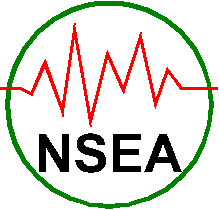 To our friends with FRS/GMRS (22 channel) radios:
WELCOME TO THE NSEA SUNDAY EVENING RADIO NET!
If you have an FRS (Family Radio Service) radio (newer 22 channel style radios [with the 14 FRS channels plus 8 GMRS "output channels"]) then you will be able to listen to the N. S. E. A. radio net (repeater output, 462.675 MHz, channel 20). However, you will NOT be able to transmit into or through the repeater. You can receive only.

Why is this?
FRS/GRMS radios all transmit and receive on the SAME frequency (called "Direct", "Simplex" or "Talk-around"). To transmit through a repeater you need a full-fledged GMRS radio with ADDITIONAL frequencies to utilize repeater stations. Repeaters use DIFFERENT frequencies to receive and transmit. Therefore, in order to transmit through repeaters you must have a radio that transmits and receives on DIFFERENT frequencies (Called "Repeat".)
Who can I talk to with my FRS/GRMS radio?
1) Other FRS radios (unlicensed) - on channels 1 - 7 and, only on low power, on channels 8-14.
2) Other GMRS radios (only If you have an FCC license) - on high power on channels 8-14 and also on GMRS only channels 15-22.
You are most likely to be able to communicate with other GRMS stations on the GMRS only "output" channels (15-22). By transmitting and receiving on the SAME frequency you can use these channels to talk "directly" to other GMRS radios (NOT through a repeater), but the range is limited, usually less than a mile. (For example, transmit and receive on 462.675 MHz "Direct" [channel 20].)
Keep in mind that while you operate under your FCC license as a GMRS station (with higher power [on channels 8-14] or on GMRS only channels [15-22]) you can NOT communicate with "unlicensed stations" (including other FRS radios). You may only communicate with other licensed GMRS stations (with FCC "Call Signs"). See §95.101(a) of the FCC Rules and Regulations.
To talk to other FRS stations (unlicensed) you must go back to low power on the FRS channels in your radio (1-14).
How can I tell if my license is for GMRS?
If you operate on high power (channels 8-14) or on channels 15-22 (GMRS only), then you (or an immediate member of your family [See Rule §95.179(a]) MUST have a GMRS license from the FCC. Look at your FCC "Call Sign" on your license. Newer GMRS licenses (since 1999) start with the letter W, followed by 3 more letters and 3 numbers. For example, WPOK 361 is usually the NSEA net control station. Older GMRS call signs (1963-99) start with the letters KA, followed by one more letter and 4 numbers. For example, the oldest valid GMRS call sign in Illinois is KAA 8142.

How can I participate in the NSEA Sunday evening Radio Net?
For purposes of our Sunday evening radio nets, we assume you will be more than a mile away from our "net control" station, thus out of range on "Direct", even though you will be able to hear the repeater. Of course you are welcome to listen. You may send information in advance for transmission on the net by the "net control" station through our web site e-mail, info@nsea.com. Information submitted is subject to editing and approval for net transmission by the NSEA net control station operator. You will be checked in for roll call by your GMRS Call Sign and announced as such. Be sure to include your GMRS call sign in your e-mail check-in message.

FRS operators who do not have a GMRS license may also check in via this e-mail - use your name and town instead of a Call Sign to identify yourself. For more information, explore our web site, www.NSEA.com.
Can I use my FRS/GMRS radio to help in NSEA Public Service Projects?
NSEA does use "Direct" in many of our public service projects, and you are welcome to join us to help in such an event if you arrange this with us in advance (you must have a GMRS license). We may issue you a temporary NSEA unit number for this purpose.
Again, welcome to the N. S. E. A. net and let us know if you have any questions!!